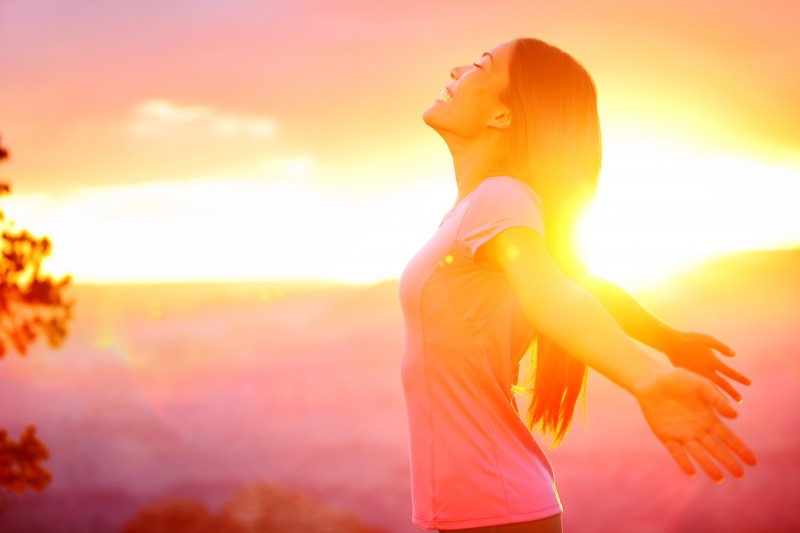 The Best Way to Get Happy Fast
"If the only prayer you ever say in your entire life is thank you, it will be enough." –Meister Eckhart
Thanksgiving may be over, but expressing gratitude extends beyond a day or even a month, it's the path to living in happiness. I believe the single most important thing I've ever done was to pay attention to what I am grateful for. Rejoicing in life exactly as it is right now, without judgment or labels of "good" or "bad". It doesn't matter what is going on in your life, if you focus on what you have, you will always end up having more.
Science has proven that gratitude is the most powerful force in channeling your energy towards an active, productive and happy life. So whether you're in thankful contentment for the winning schedule of your favorite college football team or your child's smiling face, you're happy just to be with your family… it's all the stuff new beautiful memories are made of.
When many people come together in LOVE and GRATITUDE great things can happen. Those energies become amplified. Expressing gratitude makes your life happier and more satisfying. When we feel gratitude, we benefit from the pleasant memory of a positive event in our life. Also, when we express our gratitude to others, we strengthen our relationship with them.
So what does all this mean?
It's simple, our perception of the world transforms when we take the time to feel truly grateful for even the smallest things, and the best way to express gratitude and make yourself happier at the same time is an exercise called a "Gratitude Visit." Research at the University of Pennsylvania by happiness expert Martin Seligman has shown it can dramatically increase your happiness.
What is a "Gratitude Visit"?
Think of someone with whom you are truly thankful and write a letter of gratitude. Be specific about what that person did for you and describe how that event has affected your life. Now deliver the message in person.
Take your time reading your entire letter. Be present, and notice their reactions as well as yours. After you have read the letter, talk about the event and your feelings for each other. Research shows that you will be happier and less depressed in one month.
See an impromptu "Gratitude Visit" that went viral from Rice Football player, Luke Turner.
What are you saying THANK YOU for today?
We are grateful for each of you.  Many of you have left a lasting impression on all of our staff by the way that you celebrate love, friendship, and fun. You inspire us and bring joy to our lives more than you know.
FROM ALL OF US AT LARCHMONT SANCTUARY SPA
Thank you for being a part of our family!